Craft Beer & Wine
Craft Beer & Imported Wine in Hamilton
Enjoy our selection of the finest imported wines, signature cocktails and in-house craft beers. Valentino's Restaurant is one of Hamilton's original craft breweries. We offer some of the best craft beer in Hamilton, created by brewmaster Devyn Prince-Reid. Valentino's Restaurant constantly offers limited edition drinks, and seasonal draught beers, so don't hesitate to ask our servers about the latest options. Not a fan of craft beer? Try our imported red or white wine selection while savouring our delectable cuisine.
Val's Ale – House Draught Beer
Quench your thirst with our unique and intriguing House Draught Beer, "Val's Ale." It boasts a clean, crispy and hoppy flavour, topped off with just a hint of refreshing grapefruit. It tastes and pairs perfectly with any of our classic pizzas and some of our spicier dishes. Taste the finest craft beer Hamilton has to offer at Valentino's Restaurant.
Browse through these articles to learn more about our House Ale:
Our Seasonal Craft Beer
Feeling adventurous? Our Strange Brew is unlike any other. We offer limited batches of seasonal draught beers that change every few months. Experience a variety of exciting flavours and aromas while you enjoy your meal.
Some craft beers we've offered in the past include Reid's Dundurn Ale, Lemon Stout, German Pilsner, Blueberry Wheat, Boreal Brown Ale, and Winter's End Extra Pale Ale. All perfected by our brewmaster over the years. Don't miss out on our Strange Brews!
Current Seasonal Draft:
Old Reid
Irish Red Ale. Malt Forward.
Notes of Toffee and Candy Apple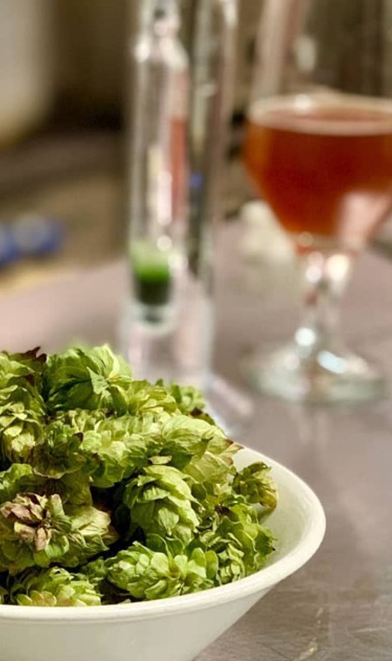 I Heart Beer Festival
Located at the Hamilton Convention Centre — it's an exciting event that hosts a gathering of Ontario breweries, cideries and distillers. A hot attraction for beer enthusiasts from all over the country – it's a place to sample popular and new beers, ciders, Hamilton wine and more.
Our craft beers have been taste-tested and enjoyed by many visitors to this festival. So put your taste buds to the test, and try our most unique craft beer, Hamilton.
Visit I Heart Beer Festival to learn more.